PLEASE EXERCISE CAUTION IN SELECTING YOUR PUPPY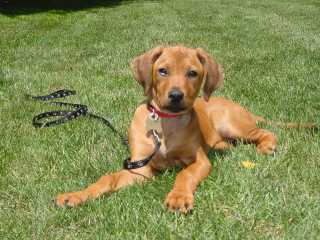 People seeking a RR should be careful to check that the breeders are CKC registered.  There are a number of breeders who have been involved with Rhodesian Ridgebacks for many years and indeed some who have just started but all of whom are genuinely interested in maintaining the characteristics of the breed and in producing dogs with good temperament.  Unfortunately, there are some people who are concerned solely with financial return, and therefore pay very little attention to breed standards, genetics, or temperament.
Potential buyers are warned to ascertain that any breeder from whom they are contemplating buying a puppy is registered with either the CKC or the AKC; has followed the guidelines required by either of these organizations in order to be able to genuinely state that this is a purebred Rhodesian Ridgeback puppy and that the bloodlines of the parents are distinct.
Potential buyers should be prepared to visit the kennels to meet the breeder and the Sire and Dam of the puppies in order to learn more about the breed characteristics and temperament of the dogs.
So you want to get a puppy? And of course you want a healthy one with as much assurance as possible that it will always be healthy. Indeed, responsible breeders share that hope and undertake a series of tests to determine that the parents are not carrying any of the genetic defects that can influence long term health such as hip dysplasia, degenerative myelopathy, cardiac disease etc. Established breeders are usually members of both their national club and their breed club, both of which will have a code of responsible breeding which they agree to follow. They also are careful that the parents are not related too closely to each other and to feed a good diet, both to the pregnant bitch and to her puppies. These considerations apply to all puppies, whether purebred or crossbred. Unfortunately there are a lot of puppies that are offered for sale whose parents have not been screened and/ or have not been fed as well as they might have. Of course, these tests and good feeding add to the breeder's costs so one clue as to the level of care is whether the puppies that are being offered for sale at a lower price and also whether they are being offered on social media. Established breeders, particularly of purebred dogs, usually have waiting lists of hopeful buyers because of their reputation for offering healthy pups, and so do not resort to social media outlets.
There are a number of questions that you can ask the breeder that should address these concerns;
Have they been breeding long?
Have they tested the parents for genetic elements defects?
Can they provide family trees for the parents?
Are they members of their national dog club (e.g. Canadian Kennel Club or American Kennel Club) and of their breed club?
Have any of their puppies in previous litters shown behavioural problems?
Will they, the breeder, provide lifelong assistance if asked?
Will they take the dog back at any time in its life, regardless of the reason for seeking rehoming?
What form of heath guarantee do they offer (usually a year) ?
Since the club makes no recommendations, it is suggested that a potential buyer contact a couple of breeders from this page or on the CKC puppyfinder in order to develop a workable relationship between their prospective home and the breeder. Reputable breeders will screen potential homes and expect references as well have references to offer.
2022 RRCEC MEMBER BREEDERS
NOTE: The RRCEC member breeders listed below have paid a fee for this listing.
---
Angelridge
Ellen Ceccanese
1441 Riverview Rd
Serpent River, ON
(705) 846-2033
---
Foxtrot
Lisa Conley
582 Jericho Rd, Demorestville, ON
K0K 1W0
613-847-1177
www.foxtrotkennel.com
Jackie McWilliam
Port Hope, ON
905-885-5230
jackiemcwilliam1961@gmail.com
---
---
Nirokii
Tina Andreatos
Alexandria, Ontario
www.nirokii.com
glasspheres@hotmail.com
450-458-9974
---
PrideRock
Heather Allison
heather.priderock@gmail.com
www.priderockridgebacks.com
---
Ridgeville 
Wade L. Daboll
1994 Hansler Street
RR#1Ridgeville ON
Canada L0S1M0T:
905-641-8337
www.ridgevillerr.ca
wade@ridgevillerr.ca
---
Ridishia
Pat Roy and Phil Desrochers
Hawkesbury, Ontario
ridishia@hotmail.com
www.ridishiaridgebacks.ca
Pat Roy Ridishia on facebook
---
Royal City
Doug Willows and Leigh Bishop
Guelph, ON
519-265-6554
royalcityridgebacks@yahoo.ca
www.royalcityridgebacks.com
---
Sarjo
Cindy Maurer
Head of Jeddore, Nova Scotia
(226)230-0679
sarjokennels@gmail.com
Facebook: Sarjo's Ridgebacks & Misfits
www.sarjokennels.com
Occasionally puppies in Nova Scotia and Central Ontario
——————————————————-
Skaduwee
Jody Leboeuf
Woodslee, ON
519-564-7496
leboeuf1999@yahoo.com
---