PLEASE EXERCISE CAUTION IN SELECTING YOUR PUPPY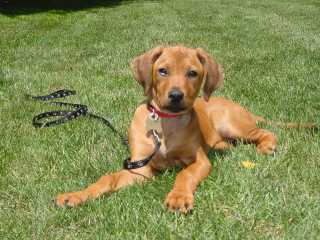 People seeking a RR should be careful to check that the breeders are CKC registered.  There are a number of breeders who have been involved with Rhodesian Ridgebacks for many years and indeed some who have just started but all of whom are genuinely interested in maintaining the characteristics of the breed and in producing dogs with good temperament.  Unfortunately, there are some people who are concerned solely with financial return, and therefore pay very little attention to breed standards, genetics, or temperament.
Potential buyers are warned to ascertain that any breeder from whom they are contemplating buying a puppy is registered with either the CKC or the AKC; has followed the guidelines required by either of these organizations in order to be able to genuinely state that this is a purebred Rhodesian Ridgeback puppy and that the bloodlines of the parents are distinct.
Potential buyers should be prepared to visit the kennels to meet the breeder and the Sire and Dam of the puppies in order to learn more about the breed characteristics and temperament of the dogs.
Since the club makes no recommendations, it is suggested that a potential buyer contact a couple of breeders from this page or ones listed in "Dogs in Canada" Annual in order to develop a workable relationship between their prospective home and the breeder.
2019 RRCEC MEMBER BREEDERS
NOTE: The RRCEC member breeders listed below have paid a fee for this listing.
RRCEC makes no recommendations.
---
Angelridge
Ellen Ceccanese
1441 Riverview Rd
Serpent River, ON
(705) 846-2033
---
Elevage Cataraqui
Valerie Michaud and Kevin Mansey
1920 Ch de la Montagne
Luskville, Quebec
819-455-2729
dogs@cataraquiridgebacks.com
www.cataraquiridgebacks.com
---
Foxtrot
Lisa Conley
582 Jericho Rd, Demorestville, ON
K0K 1W0
613-847-1177
www.foxtrotkennel.com
---
JMATZA Ridgebacks
Jackie McWilliam
2 Kelly Crescent, Port Hope  On L1A 3Z5
(905) 885-5230
jackiemcwilliam1961@gmail.com
---
Mountainridge Kennel Reg'd
Diana Pethick and Jim Beckett
Mountain, Ontario
between Ottawa and the St. Lawrence
1-613-989-2860
skyridge@ripnet.com
beckettj@ripnet.com
www.mountainridgekennel.com
---
Nirokii Ridgebacks
Tina Andreatos
Alexandria, Ontario
www.nirokii.com
glasspheres@hotmail.com
450-458-9974
---
PrideRock Ridgebacks Reg
Heather Allison
heather.priderock@gmail.com
www.priderockridgebacks.com
---
Ridgeville 
Wade L. Daboll
1994 Hansler Street
RR#1Ridgeville ON
Canada L0S1M0T:
905-641-8337
www.ridgevillerr.ca
wade@ridgevillerr.ca
---
Ridishia Ridgebacks
Pat Roy and Phil Desrochers
Hawkesbury, Ontario
ridishia@hotmail.com
www.ridishiaridgebacks.ca
Pat Roy Ridishia on facebook
---
Royal City Ridgebacks
Doug Willows and Leigh Bishop
Guelph, ON
519-265-6554
royalcityridgebacks@yahoo.ca
www.royalcityridgebacks.com
---
Sarjo Rhodesian Ridgebacks
Cindy Maurer
Mildmay, ON
(226)230-0679
sarjokennels@gmail.com
Facebook: Sarjo's Ridgebacks & Misfits
www.sarjokennels.com
---
Skaduwee
Jody Leboeuf
Woodslee, ON
519-564-7496
leboeuf1999@yahoo.com
---
Shambatsvuku
George Whitney
22 4th Chute Road
Douglas, On
613-649-0125
whitneyg4@gmail.com
www.shumbatsvuku-kennels.com